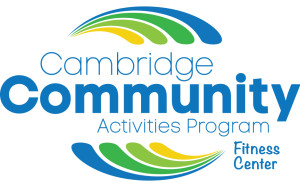 Affordable pricing, high quality equipment, and a commitment to your health!
The Cambridge Community Fitness Center, located in the Cambridge High School,  is open to students, employees, and residents of the Cambridge area. The Fitness Center has been made possible by a generous donation from the Cambridge Foundation, as well as numerous other families, individuals, and community groups. The Community Fitness Center is operated by the Cambridge Community Activities Program (CAP).
Check out our new hours and rates available below!
Sun

5:00 a.m. - 10:00 p.m.
Mon

5:00 a.m. - 11:00 a.m. / 12:00 p.m. - 2:00 p.m. / 4:30 p.m. - 10:00 p.m.
Tue

5:00 a.m. - 11:00 a.m. / 12:00 p.m. - 2:00 p.m. / 4:30 p.m. - 10:00 p.m.
Wed

5:00 a.m. - 12:00 p.m. / 1:00 p.m. - 2:00 p.m. / 4:30 p.m. - 10:00 p.m.
Thu

5:00 a.m. - 11:00 a.m. / 12:00 p.m. - 2:00 p.m. / 4:30 p.m. - 10:00 p.m.
Fri

5:00 a.m. - 11:00 a.m. / 12:00 p.m. - 2:00 p.m. / 4:30 p.m. - 10:00 p.m.
Sat

5:00 a.m. - 10:00 p.m.
*Starts on September 5th*
Monthly ***

(Credit Card Only)

Senior Citizen Annual (62+)

Senior Citizen 3 Month (62 & up)
**Please note annual memberships are based on the calendar year. Membership rates will be prorated accordingly. 
All new members are required to set up an orientation appointment. During the orientation, members will learn how to safely and properly use equipment, review policies and expectations, and have an opportunity to ask questions.
Purchase BOTH an annual Pool and Fitness Center membership and receive 20% off both memberships! Applies only to annual memberships; contact the office to purchase. (608) 423-8108
Are you a local business with 3 or more employees interested in fitness?  Ask us about receiving 20% off of your annual membership to the Fitness Center or Cambridge Community Pool.  Applies only to annual memberships; contact the office for details.
Dress Code
A dress code has been established for the comfort and safety of all users, as well as for the care of the equipment. All users are asked to abide by the following dress code:
1. Appropriate shirts must be worn at all times.
2. Shorts or athletic pants are permitted.
3. Tennis shoes must be worn at all times. No open toed shoes, boots, or cleats are allowed.
Food and Beverages
No food or drink other than water is allowed in the Fitness Center. Water fountain and bottle refill stations are available for use in the Fitness Center.
Personal Items
There are cubbies available for members to use during their workouts. The Cambridge Community Activities Program or Cambridge School District is not responsible for lost or stolen personal items.
Restrooms
There are restrooms in the Fitness center available for patrons to utilize and change in. Locker rooms and showers are not available for Fitness Center members.
Medical Clearance
Consultation with a physician is extremely important prior to engaging in physical activity. Although medical clearance is not required for membership, adherence to this recommendation is highly endorsed by the Cambridge CAP.
Assistance
Members with special needs are asked to contact the Fitness Center Coordinator, Jordan Nichols, to assist us in accommodating your needs.
Music, Television, and Cell Phones
Participants may utilize their personal listening devices. The supervisor will determine the music and television selections. Music and television stations will be appropriate for school age children. The use of cell phones for listening to personal music is allowed; however, personal calls should be taken outside of the Fitness Center.
Childcare
The Fitness Center does not provide childcare services. Children may not be left unattended in Fitness Center, gymnasium, or hallways. Children should not wait by exercise equipment while their parents exercise. For the safety of your children, please make prior childcare arrangements.
Emergencies
In the event of an emergency within the Fitness Center please call 911.
Violation
The Cambridge CAP, along with the School District of Cambridge, reserves the right to add or amend Fitness Center rules and policies at any time. All users must abide by the rules of the Fitness Center. A user may be suspended from the Center in the event of a violation of Center rules or School District policies. Violation includes, but is not limited to: intentional damage or misuse of property; fighting; use of inappropriate language; use of drugs, alcohol, or other illegal substances in property, and theft or illegal acts. Access will be denied to members under the influence of alcohol or other illegal substances.
• Be respectful of the facility, equipment, and others.
• Spotters are recommended when lifting.
• If you are doing multiple sets on a piece of equipment, please allow others to work in with you or trade sets.
• No weightlifting chalk is permitted.
• Please disinfect all equipment after each use.
• Plate collars need to be used on all bars at all times.
• Re-rack all weights and dumbbells after use.
• Please do not drop or slam weights.
• Do not lean plates or bars against weight equipment, walls, or mirrors.
• No standing on benches.
• Do not place bars or dumbbells on bench padding.
• Family friendly language only; no profanity.
• Limit use on cardiovascular machines to 30 minutes when busy; use sign up sheets on machines and please be considerate of others.
• If you are unsure how to properly use a piece of equipment, please contact the Adam Hosey, Director of Athletics & Fitness Operations.