Dates: (On-going class, join anytime)
Monday & Wednesday:  6:00pm – 7:00pm
Saturday: 8:15 a.m. – 9:15 a.m.
Location: Nikolay Middle School, Historical Gym
Fee: (Includes Jazzercise classes at Cambridge, Jefferson, Edgerton, and Online Livestream classes)
Single or Trial Class: $15
5 class pass: $55 (2 month expiration)
1 month unlimited class pass: $60 or $53 with auto-pay option
Jazzercise membership includes a variety of workout formats. Classes include both high and low impact options, which make the classes suitable for all ages and fitness levels.
• Dance Mixx – High intensity workout that mixes dance-based cardio with strength training.
• Fusion – This circuit-based High Intensity Interval Training (HiiT) class fuses cardio pumping dance moves with muscle work.
• Strength60 – A full class of fat-burning, muscle-building balance work.
Participants are asked to bring a mat and hand weights.
Check out our class Facebook page for the latest, up to date information:
Or call Franchised Instructor, Christine Kenseth, (608) 201-9236.
Register anytime at any class or by phone (608) 201-9236.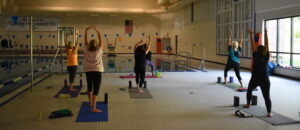 Days: Tuesdays & Thursdays
Time: 8:00 a.m. – 9:00 a.m.
Instructor: Marie Brown, 200 hr. YAC
Fee: $55 | $10/drop-in
Session 1: January 3- February 2
*Registration Deadline: Friday, December 30
Session 2:February 14- March 16
*Registration Deadline: Friday, February 10
Spring/Summer Sessions (registration coming soon)
Beach Yoga
Session 1: Coming Soon
Location: Lake Ripley Park
Yoga Flow is suitable for beginners and experienced practitioners looking for a well-rounded practice that includes both strength and flexibility. Each class brings you a variety of standing poses, Sun Salutations, hip openers and spinal twists. This is an active flow "All Levels" practice. No previous yoga experience needed. 6 Min. / 15 Max.
Equipment needs/desires: Please have a yoga mat, blanket or towel, and a water bottle and if you would like, 2 blocks and a strap.  (Note: Not required but beneficial.  A belt can be a great substitute for a strap.)
About Marie Brown: I've witnessed life changing energy when people come together to share their yoga practice. I began yoga teacher training to deepen my own practice while integrating my love of teaching and nurturing others. In January of 2023, I will complete the 200 hour Yoga Alliance Certification with Kramas Yoga. My classes are designed to be both accessible and challenging. I am grateful for the opportunity to help you in self-care and look forward to meeting you on the mat.