Dates: (On-going class, join anytime)
Monday & Wednesday:  6:00pm – 7:00pm
Saturday: 8:15 a.m. – 9:15 a.m.
Location: Nikolay Middle School, Historical Gym
Fee: (Includes Jazzercise classes at Cambridge, Jefferson, Edgerton, and Online Livestream classes)
Single or Trial Class: $15
5 class pass: $55 (2 month expiration)
1 month unlimited class pass: $60 or $53 with auto-pay option
Jazzercise membership includes a variety of workout formats. Classes include both high and low impact options, which make the classes suitable for all ages and fitness levels.
• Dance Mixx – High intensity workout that mixes dance-based cardio with strength training.
• Fusion – This circuit-based High Intensity Interval Training (HiiT) class fuses cardio pumping dance moves with muscle work.
• Strength60 – A full class of fat-burning, muscle-building balance work.
Participants are asked to bring a mat and hand weights.
Check out our class Facebook page for the latest, up to date information:
Or call Franchised Instructor, Christine Kenseth, (608) 201-9236.
Register anytime at any class or by phone (608) 201-9236.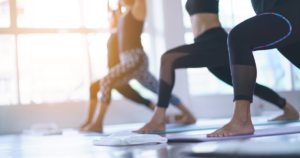 Days: Thursdays
Time: 6:00 a.m. – 7:00 a.m.
Instructor: Marie Brown, 200 hr. YAC
Fee: $50 | $10/drop-in
Slow Flow Yoga: In a world where we rush all day, Slow flow yoga is a great way to intentionally slow down and create a mindful connection with your body and breath. This class is traditional yoga sequencing flowing from one pose to the next, taking our time to adjust the pose with props as well as allowing more time to bring our breath back to the body and still our busy minds. Because of its slower pace, it is a great class for beginners, for those who need more time between poses, and those coming back into their yoga practice.
Time: April 13th - May 25th
Location: NMS Historical Gym
*Registration Deadline: Monday, April 10

Days: Thursdays
Time: 8:00 a.m. - 9:00 a.m.
Instructor: Marie Brown, 200 hr. YAC
Fee: $70 | $10/drop-in
Beach Yoga: A great way to start your day! Beach yoga is the practice of yoga in the relaxing setting of the beach, pairing the soothing influence of the water with a calming yet energizing asana practice.
Dates: June 15th - 22nd, & July 13th - August 24th
Location: Lake Ripley Park                                                                                                                                                                                                                                                                              *Registration Deadline: Monday, June 12
Yoga Flow is suitable for beginners and experienced practitioners looking for a well-rounded practice that includes both strength and flexibility. Each class brings you a variety of standing poses, Sun Salutations, hip openers and spinal twists. This is an active flow "All Levels" practice. No previous yoga experience needed. 6 Min. / 15 Max.
Equipment needs/desires: Please have a yoga mat, blanket or towel, and a water bottle and if you would like, 2 blocks and a strap.  (Note: Not required but beneficial.  A belt can be a great substitute for a strap.)
About Marie Brown: I've witnessed life changing energy when people come together to share their yoga practice. I began yoga teacher training to deepen my own practice while integrating my love of teaching and nurturing others. In January of 2023, I will complete the 200 hour Yoga Alliance Certification with Kramas Yoga. My classes are designed to be both accessible and challenging. I am grateful for the opportunity to help you in self-care and look forward to meeting you on the mat.